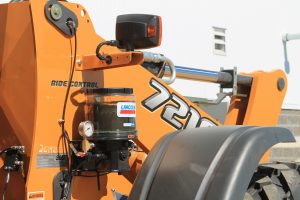 Challenge:
A local construction equipment dealer was looking to provide additional value to customers by offering the option of an automatic lubrication system on new equipment. The dealer understands that one of the biggest challenges with construction equipment is keeping the multiple pins and bushings properly lubricated. Not only does this practice reduce wear but it also purges the equipment of contamination, such as dust, dirt, sand or water. The dealer needed to offer a solution to the daily, time-intensive manual lubrication process which often included more than 30 minutes per machine, per day.
Solution:
Application Equipment, a division of Price Engineering, worked with the dealer on the design and installation of a Lincoln Quicklub® pump for front end loaders. The system delivers small, measured amounts of grease to each bearing at specific time intervals during operation. Grease is evenly spread around each pin and bushing, creating a barrier to keep contamination out.
Additionally, a multi-function button is installed in the cab in order to allow for initiation of a lube cycle or to alert the operator that the pump reservoir is low.
By utilizing the automatic lubrication system, the dealer's end users are able to eliminate manual lubrication on their machines, increasing both employee safety and production. Estimated return on investment due to reduced labor, parts and lost production show a 5.7 month payback.